Home
Amateur Radio
Scenarios
Audio Players
Video Vault
Dirty Tricks
Advice
AROS
The R.I.S.
Court Cases
Amateurs In Court
Pirates In Court
CB Court Cases
Other Court Cases
International Cases
Spot The Loony
Barmy Barry G0GGV
Pirate Radio/UBR
Repeater Bomb
Laughing Boxes
Repeaters
CTCSS Tones
New Phonetic Alphabet
Russian Jammers
RSGB Limited
Presscuttings
LPWS Magazines
Sing Along
History Of Swearing
LPWS FAQ
Construction
Rodger's Archive
Ray Withers G4KZH
London ARG
Terms Of Use
Other Radio Court Cases
Here are a few example of prosecutions of other than licensed radio amateurs.
Charlie Vaughan Southampton
August 2020
Charlie Vaughan apprehended after 450 Man Hours of work by OFCOM.
Apparently he had 3 handheld radios with which OFCOM made the extravagant claim that he was "Broadcasting" when the Virgin Radio license application was seeking 3 Million listeners and that was called "Narrow Casting".
Ofcom further claimed that Vaughan could have "Caused a ship to sink" and caused collisions and loss of life.
---
28.08.2020

Man hijacked Southampton Port radio and made racial slurs

A MAN who caused shipping chaos for the port of Southampton has narrowly escaped going to jail.

Charlie Vaughan could have "easily caused a ship to sink, collide or people getting killed" by sending nuisance radio transmissions.

Between April 1 and June 27 this year he broadcast approximately 400 times, a court heard.

The 25-year-old played music, hurled abuse and made threats to kill.

His antics impacted the port so much that mobile phones had to be used to manage shipping traffic.

The disruption he caused meant a tug boat had to be used to safely tow a cargo ship of 300m - one of the largest in the world - to port.

During his three-month campaign he sent messages such as "enjoy the bomb", "I am going to blow your ship up", and "I am going to cut your throat".

On numerous occasions, he made racial slurs directed at Polish, Chinese and black people.

Vaughan who is unemployed and supported by his partner appeared before Southampton Crown Court on Friday facing a charge of sending malicious electronic communications to which he pleaded guilty.

Prosecution barrister, John Upton told how Vaughan used special equipment to send nuisance transmissions on the same radio frequency as Vessel Traffic Services - the maritime equivalent of air traffic control.

The service is used to "provide safe navigation in the Solent" for ships.

Ofcom engineers were eventually recruited to find the source of the transmissions.

They spent 450 man-hours trying to trace him.

He was eventually found in bed with three handheld radios at his home in South Street, Hythe.

His partner had bought him two as a birthday present.

Meanwhile, he boasted a selection of radio user guides and manuals.

Mr Upton argued an aggravating feature was the danger to public safety.

In 2017, Vaughan was given a 12-month community order for impersonating a police officer.

Defending, Mark Florida-James said there are clearly mental health issues and how Vaughan suffers from ADHD and Asperger's syndrome.

A statement from Vaughan read on his behalf said: "Sorry. I really am sorry for the upset I have caused."

Mark Florida-James added that his client has taken responsibility for some of his own actions.

During sentencing Judge Gary Burrell QC said: "This is a very, very serious case. It endangered the safe navigating of ships on the Solent."

He said how Vaughan could quite easily have caused a ship to sink, collide or people getting killed, but added that Vaughan had serious mental health problems.

He was given an 18-month sentence suspended for two years.

This included a six-month sentence for assaulting two emergency workers on April 29 last year.

Vaughan must pay £1335 in costs.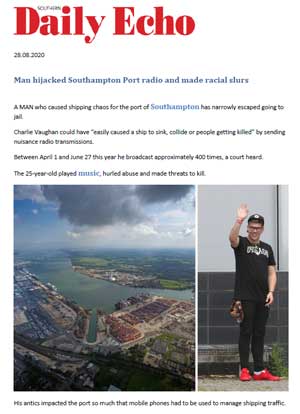 The report in PDF format, click HERE
CQ You Jimmy!
February 2015

A TEENAGER has been arrested after interference to private radio networks caused disruption to sites including Edinburgh Airport, and Edinburgh Castle.

The interference to communications on various networks in the capital between June 2014 and January this year allegedly included offensive remarks.

A five-month long investigation between Police Scotland, British Transport Police and Ofcom was launched and an 18-year-old man was arrested following a search of a property in the city on Monday.
He has been charged in connection with more than twenty offences under the Wireless Telegraphy Act and a report will be sent to the procurator fiscal.

Inspector Murray Starkey said: "This type of crime may appear relatively low risk. However, the impact has caused genuine concern for the individuals and organisations involved, as well as significant disruption to their daily business. "Our joint investigations have led to a man being charged with over twenty offences." He added that this demonstrates "the value of our partnership with Ofcom".
Dewsbury Dickhead
January 2015

The owner of a taxi firm was fined £1,600 for using an unlicensed radio frequency for his business for three years.

Communications regulator Ofcom brought the prosecution against Dewsbury man Rafaqat Hussain, 52, as the owner of Heckmondwike based Abbey Cars.

Kirklees Magistrates' Court heard that Brian Mason, an engineering officer employed by Ofcom, was working in Heckmondwike in May last year when he picked up a frequency that was unregistered. Simon Gwynne, for Ofcom, told the court the frequency had been cancelled in September 2011 due to non-payment.

Mr Mason traced the frequency to the taxi firm's office in Oldfield Lane and saw that the frequency was in use. Hussain confirmed that he had been the owner of the business since 2006 and admitted he was responsible for the operation of the equipment and that it was owned by him.

He has since applied and been granted a new licence.

Hussain, who did not appear in court on Monday, was ordered to pay Ofcom full costs of £1,553.80, as well as a £100 fine and a £20 victim surcharge.
A Hull Of An Old Loony!
November 2010

An unlicensed radio enthusiast who tried to illegally rule the airwaves has had his equipment seized.

Clive McMurray, 63, was also given a suspended prison sentence after sabotaging other people's transmissions.
He rigged his van with radio equipment and parked outside the homes of other amateur broadcasters, hijacking their programmes. [Obviously written by a loony]
McMurray, who did not have a licence, would either jam their signal or broadcast his own material.

A spokesman for OfCom, which monitors the illegal use of the airwaves, said: "He was driving around Hull and the East Riding in a silver Toyota van rigged with radio transmitting equipment. "He did not have a licence and was deliberately interfering with other amateur enthusiasts. He was parking up outside their homes and jamming the signals."

He pleaded guilty at Hull Crown Court to unlawfully using wireless telegraphy apparatus between June and November last year without a licence. McMurray, of Lambert Street, Beverley Road, city centre, also pleaded guilty to using a transmitter to deliberately interfere with wireless telegraphy.

He was caught by the police and OfCom between Kirkham Drive and Goddard Avenue, West Hull, on October 15 last year.
Recorder Richard Sheldon gave him a four month prison sentence suspended for 18 months, an electronic curfew from 7pm to 7am for three months, and allowed OfCom to confiscate his van and radio equipment.
Record Broadcast Costs £100k!!

Long time supporters of pirate broadcasters, Broadcast Warehouse, pleaded guilty at Croydon Magistrates Court in March 2008 and were fined £10,000 with record costs of over £90,000.00:-
Two directors from Broadcast Warehouse Limited, based in Croydon, pleaded guilty to selling radio equipment that did not meet regulations designed to make sure that the equipment does not cause interference to other radio users.

Other radio users include the emergency service and air traffic control. Equipment that does not comply with the Radio Equipment and Telecommunications Terminal Equipment (R&TTE) regulations 2000 has the potential to cause interference to these critical services.

Illegal transmitters that do not comply with the R&TTE regulations may be used by illegal broadcasters, or so-called 'pirate radio' stations. Broadcasts by these stations are a common cause of interference to other radio users and the communications systems used by safety of life services.

Broadcast Warehouse Limited and its two directors were fined £10,000 and ordered to pay costs totalling over £90,000 at Croydon Magistrates Court last week. This is the largest sum ever awarded to Ofcom in a court case involving the sale of illegal equipment.

During its investigation, Ofcom was assisted by ComReg, the Irish communications regulator, and National Air Traffic Services.

As part of the investigation, Ofcom discovered that transmitters which contained illegal components from Broadcast Warehouse Limited inside them, were being used by two illegal radio stations to broadcast from the Republic of Ireland across the border into Northern Ireland. Although Broadcast Warehouse Limited and its directors were not responsible for the way the transmitters were being used, these illegal stations were causing interference to air traffic control systems on both sides of the border.

The same type of illegal components from Broadcast Warehouse Limited, were found in transmitters also being used in the West Midlands by illegal broadcasters in the Birmingham and Wolverhampton areas.

Paul Mercer, head of investigations at Ofcom, said: "It is essential that our airwaves are kept free of interference, as they are used for all modern communications including systems used by the emergency services and aviation. Ofcom will take firm and swift action against companies that breach the rules and endanger public safety."
£500 For "Stolen" Wi-Fi Bandwidth!
26 July 2005
"£500 fine appropriate for UK man who stole wireless bandwidth"

In what would appear to be a worrying new trend, a west London man, Gregory Straszkiewicz, was given a 12 month conditional discharge and fined £500 for using an open Wi-Fi connection on his notebook whilst parked in his car.

Detective Constable Stephone Rothwell from Ealing CID was involved in the case and said future cases would be treated in the same way. "This case is the first of its type in the United Kingdom and it sets an example to people who use increased computer technology to try and avoid paying for the internet," he said.

We thought this was the whole idea behind Wi-Fi. If someone sets up Wi-Fi without any security, and then broadcasts the network ID at regular intervals, what do you expect to happen? If you don't want anyone else using it, switch off the network beacon, and add some passwords etc. A barmy decision that now becomes "Case Law" in the UK "I refer your honour to the case of The Crown Vs Straszkiewicz".
Oooh Betty!

21 August 2003
The fall back for any would-be impersonator is Frank Spencer, the hapless star of the television series Some Mothers Do 'Ave 'Em, as Sussex police force has discovered to its cost.

Officers have tracked down a man who stole a police radio and, for two days, bedevilled the network with catchphrases such as "Ooh Betty" and "Can I help you?" Although the thief clearly thought he was amusing, police failed to see the joke. When officers were called up to attend incidents, "Frank Spencer" would crackle on to the airwaves, offering his assistance. At other times he used the name Mr Blobby.

The radio was stolen when it was left unattended as officers dealt with an incident at a filling station in Worthing, West Sussex. Inspector Martin Pattenden, of Worthing Police, said: "This illegal use of our network could have had serious consequences. This idiot was blocking the airwaves and emergency calls would not have got through. "Each time the hoaxer was challenged over the radio to identify himself and give himself up, he abused them. His obsession with Frank Spencer impersonations was, however, his undoing. A police patrol stopped a car for speeding and, as the driver was being questioned, the passenger could not resist chirping up with: "Can I help you?" Sgt Andy Westwood, one of the patrol officers who stopped the car, was immediately suspicious and asked the men to get out of the car while he searched it. Under the front seat, he found the stolen radio.

"It was a really nice find," he said. "This man had made a real nuisance of himself. His actions were a danger to police and the public." A 21-year-old Worthing man has been arrested and released on policed bail. Police have carried out an inquiry to find how the radio was left unattended.

Prosecution pending, but we couldn't resist this one!
Unhealthy Frequency
9th June 2004
A Stratford mail order company was ordered to forfeit and destroy 801 illegal devices after a case was brought against them by The Office Of Communications under European Commission Directive Standards. The hands-free mobile phone adaptors were found to transmit on part of the FM band reserved for licensed broadcasting.

Healthmail Limited, of Warwick Road Stratford Upon Avon and Kineton, were found guilty by Leamington Spa Magistrates and ordered to pay £200 costs.

Healthmail Limited Advertising Standards complaint upheld Location
Seems like a fine, upstanding company!
Illegal Jammers
12 March 2003
A Northampton man who admitted selling and using illegal mobile phone jammers was given a 12 month conditional discharge and ordered to pay £5,200 towards prosecution costs when he appeared before Northampton Magistrates on Tuesday 11 March. Seized apparatus was also forfeited.

Glenn Jeffery Darien, 40, of Broadway, Northampton pleaded guilty to two charges of supplying and using mobile phone jammers - illegal in this country.

The prosecution by the Radiocommunications Agency followed an investigation by the Agency during which a mobile phone jamming devise was purchased. Tests on the device proved that it was effective at inhibiting communications within its proximity and also capable of causing interference to adjacent radio bands allocated for other use, such as fire, police and ambulance.

Mr Darien traded as K-9 Electronics, a retail company operating from a shop and office at Kettering Road, Northampton.

(LPWS Note) It is interesting that the Agency claimed that a device designed to jam mobile phones "within its proximity" was also capable of interfering with fire, police, and ambulance transmissions on vastly different frequencies and Not in its proximity. The Radiocommunications Agency lying in court? surely not, unless you know differently!
A Vast Behind!
14 February 2003
A man from Dartmouth who used ships' radio was conditionally discharged for 12 months and ordered to pay £200 costs after pleading guilty to unlicensed possession and broadcasting at Newton Abbots Magistrates' Court on 10 February.

Jody Channer (29) of Townstal Road in Dartmouth was charged with possession and use of two unlicensed VHF radios. Officers of the Radiocommunications Agency found the radios in August when carrying out a follow-up exercise to its Marine Licensing Awareness campaign which took place in South Devon during June 2002.

Note The LPWS received an email from solicitors, telling us to remove this story, as it was poking fun at Jody Channer. As all Court cases are a matter of public record, we made a suitable response! Maybe he really does have a 'Vast Behind', if you know, please tell us. (Probably, they are unaware that AVAST is a nautical term meaning stop or desist)
Shopped by Radio Amateur!
10 February 2003
A Newark man who admitted selling illegal CCTV transmitters was given a 60 hour community service order, ordered to pay £300 in costs and had seized equipment ordered forfeit when he appeared before Newark Magistrates on Monday 10 February.

David Mark, Burrows, 35, of Loveden Close, Balderton pleaded guilty to two charges of selling radio apparatus not compliant with the Radio Equipment and Telecommunications Terminal Equipment Regulations 2000. He also asked for three similar offences to be taken into consideration.

The prosecution by the Radiocommunications Agency followed a complaint about interference from a licensed radio amateur in May 2002.

The source of the interference was identified as an illegal CCTV wireless transmitter installed at a farm in Long Sutton, Lincolnshire, which had been bought from David Burrows' company AERC. On 20 July 2002 Agency officers searched the company's premises and seized a number of television modules capable of illegal operation on amateur frequencies. The AERC website claimed the CCTV surveillance equipment was licence exempt.
Jaeban Ltd. Without Licence
21 November 2002
On 14 November Jaeban (UK) Ltd of Welcome House on Wolverhampton Rd in Oldbury, West Midlands was fined £1000, and ordered to pay £540 costs after pleading guilty at Trafford Magistrates Court in Greater Manchester to a charge of unlicensed use of a private mobile radio system contrary to Section 1(1) of the Wireless Telegraphy Act 1949

Jaeban (UK) Ltd is a car hire company with offices sited at Manchester International Airport. To use a radio system it is necessary to hold a Private Mobile Radio (PMR) Licence, issued by the Radiocommunications Agency.

During late 2001 the Radiocommunications Agency became aware that Jaeban (UK) Ltd were operating without a valid licence. As the company failed to rectify this situation the Agency brought the prosecution in respect of the unlicensed use.

Jaeban have since applied for and been granted a licence to operate a radio system.
Up The Pole in Solihull!
24.07.2002
Nicholas Pole, 33, of Manor Drive North, New Malden, Surrey was convicted at Solihull Magistrates Court on 11 July of selling illegal hand held radios during an exhibition at Birmingham's NEC.

He admitted importing 400 "Family Radio Service" (FRS) radios from America - which are illegal to use in this country - and was charged with placing on the market apparatus that is not compliant with United Kingdom Regulations.

Mr Pole was fined £2,000 and ordered to pay £1,410 costs after pleading guilty to offences under the Radio Equipment and Telecommunications Terminal Equipment Regulations 2000. He was ordered to forfeit 15 FRS radios seized by the Radiocommunications Agency.

FRS radio equipment is widely used in America, but is still illegal in this country because they do not operate on frequencies assigned for such use. Incidents of interference have been traced to imported FRS radios after an investigation by the Radiocommunications Agency following complaints from Fire Services.

Officers from the Radiocommunications Agency were on duty at the Motorcycle Show at the G-Mex Exhibition Centre in Manchester on 4 January 2002 where Mr Pole was manning a stand called 'noocom.com', displaying a number of illegal FRS radio transceivers. Mr Pole told the officers he had imported 33 radios from America, of which he had sold 28. He explained he believed he had acted lawfully and had published a declaration on his Internet site and invoices regarding UK licensing.

However, six days later on 10 January, Radiocommunications Agency officers attending the Autosport exhibition at the NEC in Birmingham saw the defendant at the 'noocom.com' stand, again displaying FRS radios. Mr Pole was interviewed where he admitted he had in fact imported 400 such radios, and had sold nearly all of them. A further 10 radios were seized.
C U
Jimmy!
Duncan George McRae, of Scorguie Court, Inverness was fined a total of £3,000 at Inverness Sheriff's Court on 17 December for charges relating to illegally listening and transmitting messages to aircraft flying over Scotland.

National Air Traffic Services Ltd first alerted the Radiocommunications Agency (RA) to unauthorised transmissions being made to aircraft in the Hebrides area. RA officers, using sophisticated direction finding equipment, located Mr McRae while he was transmitting on 21 July 2001.

Mr McRae had earlier pleaded guilty to the charges of:

- installing and using an aeronautical transceiver contrary to the Wireless Telegraphy Act 1949; and

- using a radio scanning receiver, contrary to the Wireless Telegraphy Act 1949.

He was fined £2,500 on the first count and £500 on the second.

David Hendon, Chief Executive of the Radiocommunications Agency said:

"Preserving the integrity of air traffic control communications is essential. This conviction is a tribute to the hard, and demanding, work of RA staff who are committed to keeping the airwaves clean. We work closely with NATS to ensure that we maintain air traffic control radiocommunications that are free from interference."

Roger Whyatt of National Air Traffic Services said:

"This is part of the continuing close co-operation between NATS and the RA to detect sources of interference to aircraft radiotelephone systems and safeguard the safe operation of Air Traffic Services in the UK."
Planted on 6.6MHz
22

.02.

2002
John Plant, 35, of Clifton Drive North in St Annes on Sea was convicted of illegal installation and use of radio transmitting equipment at Blackpool Magistrates' Court on 20 February 2002. He was given a 12 months conditional discharge, and ordered to pay £250 costs.

Mr Plant pleaded guilty to offences under section 1(1) of the Wireless Telegraphy Act 1949, and was also ordered to forfeit all equipment seized from his home address.

During November last year officers employed by the Radiocommunications Agency executed a search warrant at Mr Plants' home address during their investigations into unlicensed transmissions within the 6.6MHz frequency band, which is reserved for aeronautical services.

On entering the premises they found radio transmitting equipment and other items which were set up to operate on the 6.6 MHz frequency band. The owner of the equipment was identified as John Plant and all the equipment was seized as evidence.

Mr Plant was interviewed and admitted to the officers that he had transmitted on 6.6 MHz band, and did not hold any Wireless Telegraphy Act Licence.

Under Section 1.1 of the 1949 Wireless Telegraphy Act it is an offence to install or operate a wireless telegraphy station without an appropriate licence.
Astra Taxi Fine
15 May 2001
A man from Clevedon was convicted at Flax Bourton Magistrates Court on 11 May for using a mobile radio system without a licence to run the taxi firm Astra Taxis.

Robyn Lawrence (50) had initially been licensed to operate the radio system in 1998. He did not renew his licence in 1999 but continued to use the radio system. The Radiocommunications Agency became aware of the unlicensed use during a routine check earlier this year. On 5 February Agency officers acting under a search warrant again visited Mr Lawrence who admitted not having renewed his licence.

At court Mr Lawrence, of Kennaway Road, Clevedon, was charged with three counts of using radio equipment without a licence. He pleaded guilty to all charges. He claimed that he had sold the Astra Taxi business in February and had been unemployed since then. Magistrates gave him a conditional discharge sentence of 12 months; ordered him to pay £250 costs, and forfeited all his radio and aerial antenna equipment.
Company Prosecuted by RA
Northampton Communications Limited was found guilty at Northampton Magistrates Court today of illegally installing radio equipment for use by a local taxi company.

The company based at 1 Victoria Road in Northampton, had supplied and installed equipment that exceeded general licence conditions, such as restrictions on aerial height, transmitter power and frequency.

The equipment also offered a facility known as 'Talkback', which greatly increases the transmission range, and use of which is therefore restricted, as it dramatically increases radio traffic and deprives use on shared frequencies.

The prosecution was brought by the Radiocommunications Agency, following monitoring in the area. Agency Officers traced the main transmitter to the top of a building in the centre of Northampton. After further investigations, the transmitter was seized.

The Company was fined £3,500 and ordered to pay £2635 costs.
Welsh Drive-in Restaurants Fined
12 January 2000
A London company has been convicted of two offences relating to the supply of non-approved radio communication equipment for use by staff communicating orders at drive-in restaurants in North Wales.

Music Marketing Services Ltd of Lots Road, London SW10 pleaded guilty to two summonses under Section1(1) of the Wireless Telegraphy Act 1949 at Mold Magistrates' Court on 7 January 2000. They were ordered to pay two fines - of £200 plus £100 costs for an offence relating to a food outlet at Ewloe, and £200 plus £180 costs for an offence at Flint.

Officers of the Radiocommunications Agency had visited the restaurants at Ewloe and Flint in April 1998 and February 1999 respectively and both restaurants were found to have been supplied with equipment which was not approved for use in this country.
Radio Fitness
A Manchester fitness centre has been convicted of using unlicensed broadcasting equipment in its premises in Ellesmere Retail Park, Walkden, to transmit television sound to individual headsets.

Total Fitness UK Ltd pleaded guilty to the charge at Salford City Magistrates' Court on 12 August. The company was given a 12 month conditional discharge, with £900 costs.

Thomas Hall McLaren of Ashen Bank, Tromode Woods, Bradden, Isle of Man, pleaded guilty to installing and using the equipment. He was fined £500 with £900 costs.

Following complaints about broadcast interference from members of the public, officers of the Radiocommunications Agency monitored VHF FM bands in the vicinity of Total Fitness, and heard both terrestrial and satellite programmes being retransmitted.

When they visited the club with a search warrant, officers found a rack of ten VHF transmitters, sending TV sound to receivers worn by club members. All the broadcast equipment was seized.

In a subsequent interview, Thomas McLaren admitted installing and using the radio transmitters at the request of Total Fitness.
Who ordered The Curry?
The Radiocommunications Agency successfully prosecuted a Halifax taxi operator for the unlicensed use of his radio system contrary to Section 1(1) of the Wireless Telegraphy Act 1949 following his failure to pay the annual licence fee.

Mr. Chaudary Mohammed Saghir aged 53, proprietor of A1 Community Cars of Gibbet Street, Halifax, failed to pay his licence fee to the Radiocommunications Agency despite reminders.

As a result his licence was revoked. Having confirmed that the radio system was still in use, Agency officers visited A1 Community Cars on 22 June 1999, seized the radio equipment and interviewed Mr. Saghir.
Mr. Saghir then installed replacement equipment and this was seized by Agency officers on the 24 June 1999.
£100 Fine
6 September 1999
Thomas Edward Machin aged 49 of High Street, Burniston, Scarborough, admitted two cases of operating without a licence when he appeared before Scarborough Magistrates' Court on September 3.

He was fined £100 and ordered to pay £100 costs.

In April this year technical staff from the Radiocommunications Agency inspected radio equipment on two passenger boats registered to Mr Machin and found that it was unlicensed. The systems were disconnected and Mr Machin was told to obtain the appropriate licences. Mr Machin subsequently obtained the licences.
All real, you couldn't make some of this stuff up!