Home
Amateur Radio
Scenarios
Audio Players
Video Vault
Dirty Tricks
Advice
AROS
The R.I.S.
Court Cases
Amateurs In Court
Pirates In Court
CB Court Cases
Other Court Cases
International Cases
Spot The Loony
Barmy Barry G0GGV
Pirate Radio/UBR
Repeater Bomb
Laughing Boxes
Repeaters
CTCSS Tones
New Phonetic Alphabet
Russian Jammers
RSGB Limited
Presscuttings
LPWS Magazines
Sing Along
History Of Swearing
LPWS FAQ
Construction
Rodger's Archive
Ray Withers G4KZH
London ARG
Terms Of Use
RSGB Limited (The Radio Society Of Great Britain Limited)
Now humorously know as the [RSGB] Royal Society of Good Buddies Ltd.

We are not totally against the idea of a representative body, but this company derives its entire income from within the hobby, you can't help but think that "arm's length transactions" are likely to be few and far between.

When you add to this the fact that registered with the same office address is/was another company called RSGB Licences Ltd. It seems that these vultures have designs on even more money of our!

RSGB Limited describe themselves as "Book and Magazine Publishers". As a limited company they try and deceive gullible radio amateurs by adopting the guise of a pseudo charity, and to help them they have special dispensation to drop the usual requirement of giving the status of the company in all documents. Their true status is only seen printed on their headed notepaper, the only place where you will see the tell-tale LIMITED.

It is still the case that even when presented with incontrovertible evidence, your average radio amateur is still too thick, and will not believe that this company has nothing officially to do with the hobby, in fact, even OFCOM were compelled to comment on their status recently:-

In past years, a number of variations were issued to individual Amateur Radio licensees via the Radio Society of Great Britain ("RSGB"). The letters that the RSGB sent suggested that it was the RSGB who was authorising the use of radio apparatus.

The principal legislation under which we regulate the use of radio is the Wireless Telegraphy Act 2006. This says that only Ofcom may grant or vary Amateur Radio licences. The 2006 Act replaced the Wireless Telegraphy Act 1949, which said that only the Secretary of State (including the RA) could grant or vary Amateur Radio licences. To place it beyond question, therefore, any authorisation not clearly issued by the spectrum regulator (for example letters of authority issued by the RSGB) must now be replaced with a formal variation, issued by Ofcom.

Even when faced with the statement above, some of the denser radio amateurs still find it hard to accept!

In 2013, some clown replied to one of my transmissions (without first establishing his station) telling me he was going to "report me to the RSGB", which would have the same effect as telling the AA or RAC about someone parking on double yellow lines!

use RSGB Limited to relieve themselves of some of the work they would otherwise be obligated to carry out, licensing of repeaters is a good example, but now that the Radio Amateurs Exam is no more, just about the only way into the hobby is via an RSGB Limited "examiner".

A good analogy would be to have all driving licences controlled by either the RAC or the AA. We call this a conflict of interest as RSGB Limited rely on amateur radio for the entire company income, and giving them a captive audience, or a "customer base" in this way is completely unacceptable. If RSGB Limited was a volunteer body run as a charity on a non-profit basis, this arrangement of farming out the licensing examination might be acceptable, but to give a commercial organisation this income stream, leaves a lot of questions unanswered.

Admittedly, in the past, City & Guilds of London Institute must have made money from setting the examinations, but they were a completely independent body with no vested interest in an income stream from the candidates, unlike RSGB Limited.

We, at the LPWS. call this a very bad situation, a conflict of interest, possibly verging upon nothing less than corruption.
News 31.05.2012:-
The UK's Information Commissioner has this morning issued the outcome of a complaint made against the Radio Society of Great Britain (RSGB) concerning data protection issues.

In its three-page report, it concludes that 'on the basis of all the information available, we have decided that it is unlikely that the Society have complied with the requirements of the Data Protection Act.'

The conclusion goes on to say "This is because on this occasion, it appears the Society were unable to satisfy a condition in schedule 2 of the DPA for disclosing [the complainant's] personal data to third parties and, furthermore, doing so was unlikely to be within [the complainant's] reasonable expectations."

The incident arose when correspondence sent to the RSGB was allegedly sent by e-mail to eleven members of an external organisation.

The RSGB has been asked to consider the information provided to it by the Information Commissioner's Office and steps have been taken by the RSGB to prevent the situation from happening again.
---
News 31.03.2011:-
RSGB General Manager


The Board of the RSGB has today released the following announcement:

Peter Kirby, RSGB General Manager, has left the Society's employment after the discovery of financial irregularities on his part.

For the time being, RSGB Director Don Beattie, G3BJ, will act as General Manager.
(no reports of any police action in this regard! We suggest that too many people's fingers were in the till to involve Mr Plod.)

RSGB Limited may have started out as a useful club, but now they only seem interested in making money from the hobby. Until 1999 they were committed to holding it back in the days of Morse keys and DS19/87B radio valves! When you consider their vast turn-over, it seems that their cosy relationship with The Radiocommunications Agency is not such an "arms length" arrangement as it should be. Registered limited company number 00216431.

The R.S.G.B. Ltd. undertake a significant part of licensing administration work for Ofcom, especially in the field of Packet Radio and the approval and granting of licences for repeaters. Is it right to let a company that generates it's entire income from within the hobby, be so closely involved with the granting of licences for specialist tasks? We think not. How many repeater keepers and packet radio bulletin board system operators have received approval from R.S.G.B.Ltd. while not being "members"? We have not been able to locate a single one!

With the declining numbers of radio amateurs now dropping well below the 60,000 mark, RSGB Ltd. have decided that new measures need to be adopted to secure more income, and more subscribers to their magazines. They have successfully lobbied the RA for a reduction in the Morse requirement for HF use, to a mere 5 Words Per Minute, with the abolition of the Morse requirement entirely by 2002. Furthermore, it seems that the company is actively trying to ensnare current CB operators as well.

It has always seemed rather strange that the representative body for a hobby that is so closely associated with technology, should have actively campaigned for it to be held back in the dark ages. Sadly, it seems that loss of income has been the only deciding factor in their dramatic change of policy.

Being a "member" of R.S.G.B.Ltd. has always seemed to us as a little ambiguous, basically, you subscribe to a magazine rather than pay fees to a club, but this passes over the heads of most people.
The R.S.G.B. Ltd. also enjoys other dubious privileges, the greatest of these being the ability to broadcast propaganda on our allocated amateur frequencies and to promote their money making ventures such as the sale of books, and for events for which they charge admission fees.
It may well have been the case in years gone by that the company was a non-profit organisation, but with the purchase of Ham Radio Today (A British amateur magazine - about amateur radio) we suggest that is no longer the case. With their close ties with the licensing authority, we feel that their advertising and propaganda broadcasts on amateur radio are now totally inappropriate. The constant use of the code QTHR in their "news/advertising/propaganda" broadcasts on amateur frequencies, is merely another way of suggesting that you buy their call-sign listing book.
For reasons best known to the UK Government, The Secretary of State for Trade & Industry (or whatever he is called this week), allows R.S.G.B. Ltd. to drop the usual legal requirement for the term Limited to appear after the company name on all company literature.

Normally a legal requirement for Limited companies, these special terms only seem to perpetuate the myth that the company is some sort of club or official body.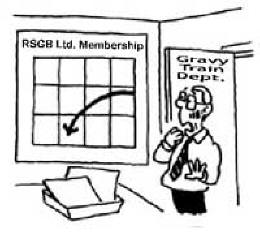 RSGB Licences Limited,

an interesting new company that has yet to trade, we wonder where the income will be derived from - any guesses?

Details:-

Name & Registered Office :
RSGB LICENCES LIMITED
LAMBDA HOUSE,
CRANBORNE ROAD,
POTTERS BAR,
HERTFORDSHIRE. EN6 3JE
Status :Active
Company No. :02603325
Date of Incorporation : 19/04/1991

Country of Origin : United Kingdom



Company Type: Private Limited Company
Nature Of Business (SIC(92)):
9272 - other recreational activities
9305 - other service activities
7499 - non-trading company


Accounting Reference Date : 30/06


Last Members List : 11/12/2000

Previous Names
Date of Change : Previous Name :
02/10/1991 BAYLAKE LIMITED

NOTE 2014 Registered office now moved.

Unlike the RSGB Ltd., we at the LPWS do NOT want your money!
---
Defamation of Character
Following the conviction of George, G1MTT, The Radio Society of Great Britain Limited gleefully broadcasted their views on the subject. Unfortunately they didn't bother to find out what he was charged with, which repeater was used, which Court the case was conducted in, or the length of the case, - let alone what he was found guilty of!
The Defamatory Article
Message ID: <KPRS1851-13

Sent: 01-07-1993 at 16:37 gmt.

To: NEWS @ GBR

From: GB2RS @ GB3KP

Subject: MAIN NEWS 7TH JULY 1/13

Path:GB7GLO!GB7MAX!GB7SAM!GB7CHS!GB7YAX!GB7WRG!GB7BAD!GB7RUT!GB7BED!...

From: GB2RS@GB3KP.#37.GBR.EU

To NEWS@GBR

Good morning. It's Sunday the 4th of July and here is the GB2RS news broadcast, prepared by the Radio Society of Great Britain.

And we start by saying a special "good morning" to all those listening from VHF National Field day sites.

Our main story involves a repeater abuser who is this week nearly ten thousand pounds poorer. On Friday the 25th of June, at Worcester Crown Court, Robert George Hitchcock, GIMTT, was successfully prosecuted for offences connected with the transmitting of music, abuse and obscenities on a number of repeaters, particularly in the West Midlands. It was the activities of Hitchcock and others which resulted in GB3BM being time and sensitivity limited over the last few months. At the end of the week-long trial, Hitchcock was fined three-thousand-five hundred pounds, and was ordered to pay six-thousand pounds costs. The case, which was brought by the Radio Investigation Service of the Radiocommunications Agency, stemmed from considerable work by the RSGB's Amateur Radio Observation Service working in conjunction with local repeater groups. Close cooperation between radio amateurs and the RIS over a long period has resulted in this conviction which, it is hoped. will clean up several repeaters. It is expected that the substantial fine and costs imposed on Hitchcock will act as deterrent to would-be abusers of their amateur radio licences.

The expedition by the Bridgend and District Amateur Radio Club to Tusker Rock scheduled for late June had to be postponed due to foes. If weather conditions allow this time. the station will be operating from approx 2pm today using the callsign GB2TR. Activity will be limited to 2, 20 and 40 metres SSB only and for a maximum of four hours. The RNLI, Coastguard and Sea Cadets will all be standing by to evacuate the island if weather conditions deteriorate during the expedition. Tusker Rock is situated in the Bristol Channel, some five kilometres south east of Porthcawl. This WAB square (SS87) has never before been activated. For the IOTA award it is EU-124.

Next Thursday evening, the 8th of July. the callsign GB2BS will be aired by Brookfield School. near Portsmouth. The operators will be licenced students and school staff together with members of the Fareham Radio Club. HF operation will on 40 and 80 metres SSB only. and on 2 metres and 70 centimetres FM from 6DM to 10pm. This is a sponsored event and all monies raised will be donated to the Colour Scanner appeal for Kidney research.
I recently had the opportunity of speaking to George (October 2013) about this, apparently he approached his solicitor to get a simple apology over the malicious falsehoods in the packet message above. However, when it was explained to the solicitor how the Packet radio system worked, and that the message was saved on people's computers all over the country for any radio amateur to download, he said that he would need RSGB Limited to provide all the names and addresses of Bulletin Board keepers, AND get each and every one to publish an apology as well as making the original message unavailable for download.

George then told the solicitor that not only was the message published on Bulletin Boards, but also was read out on the air as part of the RSGB Limited News. The solicitor then said that he would also need RSGB Limited to supply all the names and addresses of the newsreaders, AND get them to transmit a verbal retraction and apology.

It transpired that the original request to RSGB Limited was just for a retraction and apology, which the company refused. George's solicitor then shot the killer blow by demanding all the names and addresses of both Packet radio BBS SYSOPS and all the RSGB Limited newsreaders, the purpose was to charge each and every one with defamation!

This galvanised the company into action, and they started talking money, after around 2 weeks, an agreement was reached which George will still not reveal as RSGB Limited made a confidentiality clause regarding the actual amount of the settlement.

This was previously unknown, and I have been able to get George to agree to a more in depth "interview" which will hopefully have further revelations.
The apology
In our bulletin for Sunday the 4th of July, we ran a story concerning George Hitchcock (sic), G1MTT, who had been fined for a number of radio-related offences. We stated incorrectly that the offences were related to the transmission of abuse and obscenities. We unreservedly apologise to Mr. Hitchcock for this and regret any embarrassment this may have caused him. Mr. Hitchcock has asked us to point out that the charges were as follows: eight counts of using apparatus for wireless telegraphy without a licence and two counts of unlawful broadcasting. Four charges were withdrawn, one was returned not guilty by direction of the Judge and of the five counts on which he was found guilty, four charges related to the playing of music and one related to not using a callsign at the commencement of transmission. In all cases it was alleged the same frequency was used, namely 145.025MHz, the input frequency of the Malvern Hills repeater GB3MH. No charges were brought concerning abuse or obscenities or the use of any other repeater or frequency. The Society has agreed to pay Mr. Hitchcock his legal costs and damages.

Also to be seen HERE

But it didn't end there!

Many packet Radio BBS SYSOPs decided to delete the apology, so George made a substantial list (Packet Radio was quite popular back then), and returned to the solicitors who sent a letter off to RSGB Limited telling them that the terms of the "out of court" settlement had not been met and requesting the names and address of the SYSOPS who didn't make the apology available, so they could be taken to court for defamation.
The RSGB were very quick to react, and assured George's legal representatives that they would ensure the apology would be available on EVERY BBS that very weekend. Every BBS that deleted it the previous week now carried the apology, and the ones that hadn't, now had it on their system twice.
At least the "members" of The Radio Society Of Great Britain Limited were able to track down where, at least some, of their money went in that financial year!

Unlike most publically listed companies, RSGB Limited lists, after "Operating Costs" another item "Other Operating Costs". After searching, we couldn't find an example of another company doing this - it seems RSGB Limited mystically have expenses every year that are almost exactly equal to the operating profit - no explanation of these expenses is given in any of the sets of accounts we have inspected

In 2011 it was very sparsely reported that RSGB Limited employees were being "dismissed" for involvement in financial irregularities! This was all handled in house, reportedly without Police involvement.